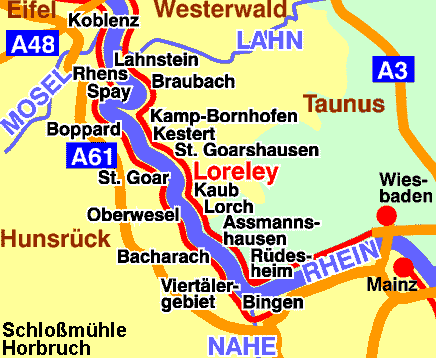 Holiday flats / apartments / vacation rentals / holiday homes on th Rhine river between Frankfurt, Worms, Wiesbaden, Mainz, Rudesheim, Bingen, Lahnstein and Koblenz, Coblence, as well as on the Mosel, in the Hunsruck and in the Eifel mountains.
Left side of the Rhine River between Mainz, Bingen and Koblenz, near Rhein-Burgen-Wanderweg
Right side of the Rhine River between Wiesbaden, Rudesheim and Lahnstein, near Rheinsteig
| | |
| --- | --- |
| Bavaria, Romantic Road, German Castles Road, Rothenburg 2 Apartments Family Christ Gebsattel, Mittelfranken (Mid Franconia) near Burgenstrasse and Romantische Strasse. Up to 8 people, 55 to 65 m². Minimum of 3 overnight stays during Christmas, minimum of 4 overnight stays during New Year's Eve. | |
+

Wine tasting on the Central Rhine River
Click here for one of the best Rhine river guides in the internet: Rhine river boat castle cruises and half day cruises | Rhine river cruises

Apartment listings Germany - Rhine river holiday flats Info

Central Rhine Hotel Info | German castles | www.germany-castles.net | Hotels

Pensions | Guest houses | Bed and Breakfast & Inns

Hotels on the Mosel, near Eltz Castle

Apartment near Rothenburg o. d. Tauber in Franconia on the Castle Route:
915 gcol bed and breakfast estate Mid Franconia, directly beneath of 915-colm castle hotel Mid Franconia, Colmberg in Frankonia, Map of Bavaria in South Germany, on the German castles road between Ansbach 16 km, Rothenburg o.d.T. 18 km and Nurnberg, Nuremberg, Nuremburg toy fair 60 km. Airport Nurnberg, Nuremberg, Nuremburg 65 km, airport Stuttgart 168 km, between airport Frankfurt 199 km and airport Munchen, Munich 221 km.
| | |
| --- | --- |
| Rhineland-Palatinate, Rhine River Valley, near Loreley Rock Bed and Breakfast, Apartment Wessling Oberwesel-Weilerboppard, cheap prices, quiet side valley, lawn, wine alcove, grill corner, at the edge of a forest, swing, playground 200 meters. Pets allowed. Wine tasting. Up to 4 people, 40 sqm, Recreation room. | |
| Germany, Rhine River Valley, Mainz, Rudesheim, Bacharach, Lorelei Rock, Koblenz Nonsmoking Canopy bed holiday apartment Hermann, ask for Last Minute Offers Central quiet location in Oberwesel on the Rhine river. Renovated in 2015, 55 sqm. Bedroom with historic four-poster bed and satellite TV, living room with sofa bed and satellite TV, kitchen, free Wi-Fi, balcony, terrace. Car parking. 4 boat landing stages. 630 meters from castle Schonburg. Favorable permanent rental price from Nov. to March. | |
| Mosel River between Cochem and Trier, Bernkastel-Kues: 8 holiday flats up to 7 people, Family A. Radtke Up to 7 people, 45 to 80 sqm. Quiet central location, 200 meters from the Mosel River banks. Bread roll service, grill possibility, pick up service. Minimum of 5 overnight stays during Christmas or New Year's Eve. | |
| Rhineland-Palatinate, Rhine River Hills, near Lorelei Rock Holiday flat Apartment Margot Daum Damscheid between Oberwesel, Lorelei and water castle Pfalz near Kaub. Hiking, biking. Apartment up to 5 people, 56 sqm, in a side road. First floor, renovated, kitchen and bathroom. Car transfer upon request. | |
| | |
| --- | --- |
| Rhine River cruises to visit German wine festivals in 2024 and 2025 Rhine River Lights firework displays with half day round boat cruises A spectacular firework display during a boat trip in the Middle Rhine River Valley between Koblenz / Coblence, Lahnstein, Boppard, St. Goar, Loreley Rock, Oberwesel, Bacharach, Assmannshausen, Bingen and Rudesheim. The boat cruise with DJ music and dance on board is starting from different wine towns with wine hikings and wine festivals. | |
+
.